PentoKan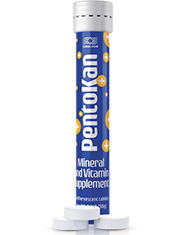 Availability:  In stock
The release form: 20 effervescent tablets
PentoKan is a product designed to boost cellular energy levels on the go! Convenient tablets that easily dissolve in water or juice fill your body with vital power, normalize vitamin-mineral balance and boost your work efficiency. This is a perfect product for those who have a little time and a lot of plans!

The main effects of the product
- improves physical and intellectual performances
- boosts energy levels

- activates a healthy metabolism and digestion

- regulates the work of the cardiovascular system

- helps to detoxify the body

- fills the body with vitamins that boost the immune system

- helps fight stress
How the main ingredients work
Potassium is presented in this product in a very bioavailable form, which means the body can easily digest it and use all of its potential. This mineral is vital for keeping a proper electrolyte balance, it regulates the activity of the heart and vessels, keeping them firm. It actively participates in producing cellular energy and keeping your powers up.

Vitamin C has many beneficial powers, including boosting the immune system, protecting cells from toxins and free radicals, activating cellular metabolism, slowing down the aging processes by stimulating collagen production in the body, and a very important factor - it helps potassium to be properly transported to the cells.

Ribose is a very helpful energy activator: it works as a catalyst in biochemical reactions, allowing the body to receive the maximum amount of energy and transport it to the cells. It regulates the ATP molecules synthesis and preserves the outcome energy, which is crucial for athletes and those who suffer physical and intellectual workloads.

How to useSpecialists recommend taking 1 tablet of the product one or two times a day, during mealtime.
Manufactured in: United States
---
Buy PentoKan Coral Club in the USA, Canada in one simple step: click on "price" and checkout.
Video about PentoKan - the key to cellular health, Robert Thiedemann
Leave a comment
Similar products
Coral Detox is a complex of the best products that work together to drastically detoxify the body. It is a rich source of natural enzymes and vitamins A and D that work as antioxidants by helping the metabolism process and detoxify the body.

H-500 is a remarkable supplement that has a variety of positive effects on the human body - from boosting energy and restoring the natural forces and powers of the organism, to stimulating cellular energy output and increasing endurance during hard physical and intellectual activities. It helps the body to maintain power during work and to recover faster when needed.

Coral-Mine is a product of scleractinian corals that grow in deep waters of the Sea of Japan. They can be found near the islands Okinawa and Tokunoshima, exclusive representative in the US market - is the company Coral Club.