Coral Detox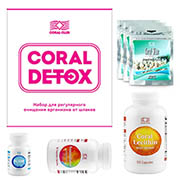 Coral Detox is a complex of the best products that work together to drastically detoxify the body.
It is a rich source of natural enzymes and vitamins A and D that work as antioxidants by helping the metabolism process and detoxify the body.
The complex has the following positive effects on the organism:
- promotes a better digestion of fats, carbohydrates, and proteins, protects the GIT from toxins;

- breaks complex proteins and fats into easily-digestible amino acids;

- promotes a more efficient digestion and absorption of nutrients and vital elements;

- prevents bloating in the stomach and the intestines.
It is a supplement mix with a powerful antioxidant effect that eliminates free radicals in the body, stops early aging and detoxifies the organism, fills it with energy.
- helps the organism to cope with hard intellectual and physical activity;

- promotes faster recovery after workloads;

- slows down the aging process, stops early aging;

- wipes the toxins out of the body.
The mix is a rich source of phospholipids and it protects the liver from the toxins. What it does:
- a building material of brain cells and cell membranes;

- protects cells from damage;

- detoxifies the body on a cellular level;

- restores and recovers liver after the damages of alcohol, junk food, and bad environment.
The program comes in a comfy reusable bag.
Coral-Mine, Assimilator, H-500 (60 pc), Lecithin.
Manufactured in: United States
---
Buy Coral Detox Coral Club in the USA, Canada in one simple step: click on "price" and checkout.
Leave a comment
Similar products