Coral Lecithin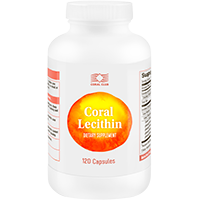 Availability:  In stock
The release form: 120 capsules
Coral Lecithin is a product with a wide range of healthy properties: it boosts the immune system, helps the work of the cardiovascular and nervous systems, regulates energy metabolism, normalizes the activity of the GIT, regulates metabolic and digestive processes, it supports the nervous system by providing phospholipids for the cell membranes.
The main effects of the product
- supports the work of heart and vessels

- provides energy for the nervous system

- regulates the work of the GIT

- keeps skin, nails, hair healthy

- improves stress resistance

- enhances work efficiency

- regulates cholesterol levels and helps the work of the liver
How the main ingredients work
Choline and inositol are two main components of the lecithin itself, they actively participate in the regulation of the brain and nervous system activity, they stimulate memory and concentration, improve the mood and have a light sedative effect. Inositol has a valuable property of reducing depressive states and anxiety, which is extremely helpful for the teenagers and people with mental problems.
Lecithin actively stimulates a healthy metabolism, thanks to the phospholipids that help the work of the liver. It also helps the cardiovascular system by reducing cholesterol levels in the blood, lowering the pressure the heart receives.
The product naturally stimulates the production of antibodies to fight infections and viruses, thus empowering the immune system.
Lecithin has a positive influence on the growth of new cells, contributing to the reproductive system - adding this supplement to a diet of a pregnant woman will reduce the risks of pathologies in the fetus or development issues in the newborns.
Antioxidant properties of the product allow it to protect the organism from the damaging free radicals and stop early aging processes.
How to use
Specialists recommend taking one or two capsules of product daily, during mealtime.
---
Buy Coral Lecithin Coral Club in the USA, Canada in one simple step: click on "price" and checkout.
Leave a comment
Similar products
Omega 3/60 is a dietary supplement designed to fill the organism with vital nutrients, minerals and vitamins, fatty acids and amino acids - components that ensure a proper activity of many systems of the human organism. This product helps the work of the cardiovascular, nervous systems, contributes to the regeneration processes around the body, prevents heart and vessels diseases, improves an overall state of the organism.

Omega 3-6-9 is a product with high polyunsaturated fatty acids content. These components are nutritive, rich in vitamins and minerals, they contain many organic acids our bodies need but do not produce. Adding this supplement to your diet will improve the state of the nervous system, help the work of the heart and vessels, normalize metabolism, will normalize the hormonal balance, improve the functioning of many bodily systems and even the condition of skin and hair.