AquaOx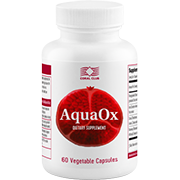 Availability:  In stock
The release form: 60 capsules
"AquaOx" is a bioactive product that contains the most powerful natural antioxidant components there are. The Acai berries, cocoa beans, rosemary, and pomegranates were mixed together for the best results in protecting the organism from free radicals and prolonging youth and health.
The main effects of the product
- eliminates free radicals

- prevents healthy cells from decay and turning into free radicals too

- optimizes work of the cardiovascular system

- cleanses blood vessels of cholesterol

- improves memory, concentration, work efficiency

- prevents early aging processes

- regulates metabolism

- tones up
How the main ingredients work
The components of the product work together in synergy to bring the best antioxidant effects possible.
Rosemary contains organic acids that add to the healthy effects of it, they improve the state of the cardiovascular system and help digestion, metabolism, the absorption of nutrients.
Cocoa beans are rich in active flavonoids and polyphenols, they have antibacterial, anti-inflammatory and antiviral properties, the beans stimulate blood flow and improve brain functions.
Acai berries are a rare source of many different kinds of useful elements: antioxidants, flavonoids, organic acids, fatty acids, minerals, vitamins, proteins. They positively influence the work of the whole organism, improving metabolism, heart and vessels functions, normalizing cholesterol levels, preventing anemia and different GIT disorders.
The pomegranate is highly beneficial for heart and blood vessels, it improves blood circulation and composition, it reduces cholesterol, prevents atherosclerosis. This component actively prevents cell oxidation and early aging processes across the body, and supports youth and health on a cellular level.
How to use
Specialists recommend taking two capsules of the product daily, during mealtime.
---
Buy AquaOx Coral Club in the USA, Canada in one simple step: click on "price" and checkout.
Leave a comment
Similar products
H-500 is a remarkable supplement that has a variety of positive effects on the human body - from boosting energy and restoring the natural forces and powers of the organism, to stimulating cellular energy output and increasing endurance during hard physical and intellectual activities. It helps the body to maintain power during work and to recover faster when needed.

Coenzyme Q-10 is a bioactive supplement that boosts the immune system, activates energy metabolic processes, stops early aging, helps the work of heart and blood vessels, improves the state of the nervous system.

"Vitamin E" is a product specially designed to strengthen the immune and cardiovascular systems, to prevent the development of disorders related to vitamin E deficiency and to generally improve health. The product is easily digested by the organism and fully absorbed, ensuring the best effects possible.