Black Walnut Leaves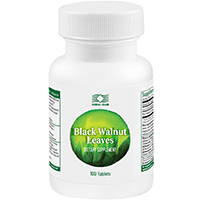 Availability:  In stock
The release form: 100 tablets
"Black Walnut" is a bioactive supplement designed to stop inflammatory processes, flush out parasites, toxins, and wasteful masses from the body, and generally improve health and boost the immune system. The product shows best results in complex with cleansing programmes or diets.
The main effects of the product
- anthelmintic

- detoxifying

- stops inflammations, reduces bacteria growth, suppresses viruses and infections

- mild laxative

- regulates metabolism
How the main ingredients work
Black walnut leaves are rich in many vital elements - vitamins, minerals, flavonoids, antioxidants, tannins. All these elements work in synergy and actively regulate body functions and normalize the metabolic processes in the whole organism.
Juglone is the main anti-parasitic component of the product, it activates the intestines functioning, normalizes the activity of the whole GIT, regulates metabolism and digestion, activates detoxification processes and helps to easily bind and flush out parasites, worms, different kinds of harmful bacteria. This element helps to restore a proper inner microflora and to support the health of the whole body.
Antioxidants protect GIT cells from free radicals and toxins, which eases the detoxification process. They possess mild sedative properties and help to activate regeneration processes on a cellular level.
Linolenic acid actively participates in reducing bad cholesterol levels and stimulating a healthy metabolism. It helps the organism to prevent the buildup of plaque and thrombosis.
Tannins reduce inflammations and allergic reactions, prevent the destruction of healthy microflora of the GIT and generally boost energy levels in the body. They prevent the growth of damaging bacteria, infection, viruses and activate a natural immunity.
How to use
Specialists recommend taking four tablets of the product daily, during mealtime.
Manufactured in Coral Club: United States
Leave a comment
Similar products