Healthy 30+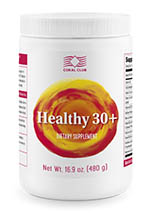 Availability:  In stock
The release form: 480 g
"Healthy 30+" is a bioactive product that is aimed at supporting health and youth in people over 30. At this age, the production of amino acids in our bodies decreases, we experience the deficiency of many vital elements, which leads to aging processes and general health decline. The product is designed to compensate for this deficiency of vital amino acids, vitamins, and minerals, and it works as a powerful antioxidant, protecting the organism on a cellular level.
The main effects of the product
- powerful antioxidant

- fills with vital amino acids

- boosts a proper metabolism

- prevents oxidation of cells

- normalizes digestion thanks to a mineral-vitamin complex

- stops signs of premature aging processes

- protects from toxins
How the main ingredients work
Arginine is a very important amino acid that participates in the process of liver cleansing and normalizing kidney functions. It regulates the detoxification process, normalizes protein metabolism, hormone synthesis.

Glutamine works in synergy with lysine, they improve the protein digestion and usage by the body, regulate metabolism and breakdown of carbohydrates and lipids.

Citrulline regulates energy metabolism, stimulates the production and absorption of arginine.

Alpha-lipoic acid is often used as an element that stops the signs of aging, prolonging youth and beauty of the skin, nails, hair. It stimulates insulin production, regulates glucose metabolism.

Taurine actively regulates cholesterol levels in the blood, participates in lipid metabolism, restores the inner microflora in the intestines. It eases the absorption of some vitamins and minerals, improves digestion.

The mineral complex of the product normalizes the work of the cardiovascular system, positively influences nervous system. Minerals normalize cholesterol levels in the organism, normalize blood flow and pressure, help with depressive and nervous states, have a slight sedative effect.

Vitamins in the product have a strong antioxidant effect, protecting the body from free radicals and toxins on a cellular level, they are especially effective in cases of bad environment or unhealthy lifestyle.

Vitamins of B group, including the folic acid, regulate metabolism on a cellular level and improve the breakdown of proteins, fats, carbohydrates, improve vitamins and minerals absorption, improve GIT functioning, boost the immune system.

Inulin normalizes GIT microflora, improves metabolism and digestion, stimulates the immune system, improves the state of the cardiovascular system.

Fibersol normalizes glucose levels in the blood and regulates energy metabolism, reduces cholesterol and generally improves health.
How to use
Specialists recommend taking one scoop of the product daily, dissolved in a glass of water, in between mealtimes.
"Healthy 30+" (Over 30)
Manufactured in: United States Coral Club
Leave a comment
Similar products