FirstFood Colostrum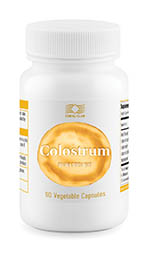 Availability:  In stock
The release form: 90 capsules
FirstFood Colostrum is a natural product that boosts the immune system, actively stimulates regenerative processes, generally improves the health of all organism. It is collected from cows within 36 hours after calving and the latest technologies are used to preserve all nutrients, minerals, vitamins and amino acids of a natural colostrum.
The main effects of the product
- massively boosts the immune system

- normalizes inner microflora

- stimulates regeneration on a cellular level

- helps the body fight illnesses, viruses, bacteria

- improves the state of the cardiovascular system

- helps the work of the nervous system

- has immunomodulatory effects
How the main ingredients work
Colostrum itself is the very first and the most important meal any mammal can have - it is the forerunner of mother's milk, but in a much more nutritive and concentrated form, where every vital element is held. This substance is important for the newborn babies and it carries a much more concentrated amount of nutrients that boost their life powers in the first hours of life.
All these properties make colostrum useful for any grown-up as well. It actively stimulates the production of five types of immunoglobulin that protect the organism from dangerous bacteria, viruses, infections, fungi, and even the lightest allergens.
The product stimulates muscle and bone tissue growth and regeneration by normalizing the synthesis of growth hormones. And the glycoproteins protect them from destructive gastric juices.
The vitamin-mineral complex of the Colostrum is supported by enzymes that participate in many bodily processes. Lysozyme acts as an antibiotic that contributes to the work of the immune system.
It is high in proteins and amino acids, it is the highest concentration of such nutrients in any food.
The product has anti-inflammatory, anti-allergy properties. Vitamins and minerals in it help the processes in all the organism to run smooth and healthy.
How to use
Specialists recommend taking three capsules daily, each with a glass of water.
---
Buy FirstFood Colostrum Coral Club in the USA, Canada in one simple step: click on "price" and checkout.
Leave a comment
Similar products
Shark Liver Oil is a bioactive product that is a rich natural source of a mineral-vitamin complex, including vitamins A, E, D, omega-3 fatty acids, organic acids. It actively stimulates the immune system and the protective powers of the organism, regulates the work of the cardiovascular system, stimulates regeneration processes on a cellular level, enhances the work efficiency and stress resistance.

"Cat's Claw" is a bioactive product aimed at boosting the immune system and energy levels in the body, it has a general toning effect and it helps with the lack of energy, inability to focus, general exhaustion.