EyePhyt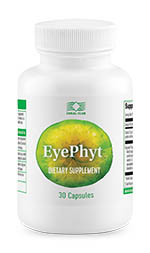 Availability:  In stock
The release form: 30 Capsules
EyePhyt (Phycoten) is a product with bioactive properties that improves eyesight and prevents vision loss. Natural components help the organism to see better and protect the eyes from the external and internal damages.
The product also has the immune modulatory effect, hypotensive and sedative properties, which makes it good not only for the eyes but for the whole organism.
The main effects of the product
- anti-inflammatory

- anti-allergy

- regulates eye pressure

- restores eye microflora

- improves vision and eye activity

- boosts the immune system

- helps with the dry eye symptom
How the main ingredients work
The Eyebright plant - euphrasy - is a rich source of vitamins and minerals, fatty oils, organic flavonoids and anti-inflammatory elements that actively influence the organism. They work to regulate the pressure, to relieve the fatigue of the eye, lower painful feelings and normalize blood flow in the eyes, work as astringent to the mucous of the eye and the conjunctive. The product enhances vision and helps those who work in front of a computer or have bright artificial lighting - factors causing inflammations, diseases, and blurred vision.
Calcium boosts the immune system and regulates the blood flow, participates in cellular growth and regeneration, makes the cells membranes elastic and firm. Improves the body's ability to properly absorb all the nutritive elements it receives.
EyePhyt (Eyebright) How to use
Specialists recommend taking one tablet of the product twice a day, dissolved in hot water.
---
Buy EyePhyt (Phycoten, Eyebright) Coral Club in the USA, Canada in one simple step: click on "price" and checkout.
Leave a comment
Similar products
Visi-Prime is a product designed to support and improve the health of the eyes. It is a bioactive supplement that fills the organism with vitamins, minerals, organic acids to regulate the work of the eyes.